A man opens the door during flight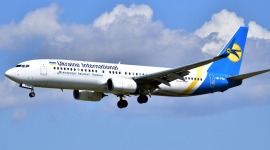 About Lesson
Police in South Korea arrest a man. The man opens a door on a plane. It is a big plane. There are 194 people onboard.
The incident happens before the plane lands. The passengers are scared. Strong wind blows at them. The plane lands safely, but the door is still open. Some passengers have problems with breathing. They must go to the hospital.
The man who opens the door is sitting near the emergency exit. He pulls a handle to open it. The police are talking to the man to find out why he does it. He does not want to speak to them.